Doctor Tab Usability Enhancements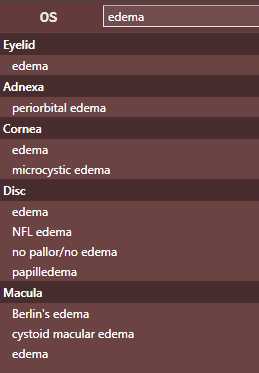 Several areas throughout the EMR have been refined and in many cases completely overhauled to enhance usability. We reviewed all the user feedback we have received over the years and dreamed up new interfaces to help you document faster. Although we plan to eventually overhaul every area of our system, the doctor tab overhaul was prioritized for initial release.
SLE / Fundus Exam 

The SLE & Fundus tabs where consolidated into a single tab so that you can now see and document the results of both exams at the same time. Priority conditions for all structures are displayed so that you can easily document several common findings with fewer clicks. Documenting followup exams is easier than ever as you will no longer be required to manage blocks of text. Searches now display results from all structures to help you find conditions no matter what structure they are listed under.
Assessment / Plan
The Assessment & Plan tabs where consolidated into a single tab so that you can manage the patient's care more effectively. Comments are now discretely linked with diagnoses so that you no longer have to identify what condition you are referring to manually. You can easily order diagnoses to match the priority for that visit, and the order will automatically be reflected when coding office visits! Want to easily remove irrelevant text that was automatically added by a Fast Plan? No problem! Simply click the red X to delete. Re-prescribing medications can now be done with 2 clicks.