New Version Release Information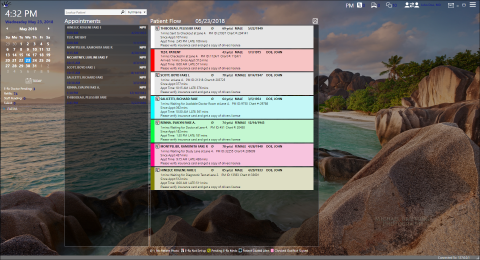 2018 is a big year for EyeMD EMR!
We have been working hard on our next major release which will shake up the Ophthalmology EHR world again! This update will continue to affirm our position as the "Gold Standard" in Ophthalmology.
Below you will find a few of the new features, updated hardware/software requirements and release schedule. We encourage you to periodically visit the Client Newswire to stay up-to-date with the latest information.
Notable features:
Overhauled User Interface
Our next update will feature a new modern user interface that allows you to customize the look of the software to fit your environment and personal taste.
Dark: This theme is great for exam rooms and other areas with low lighting.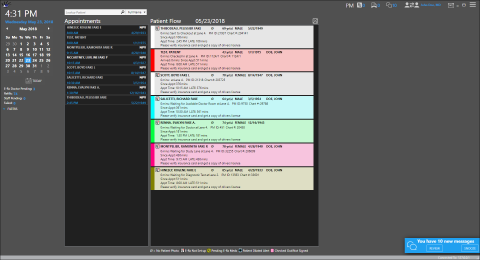 Light: This is our traditional theme which is great for the back office, reception and other areas that are well lit.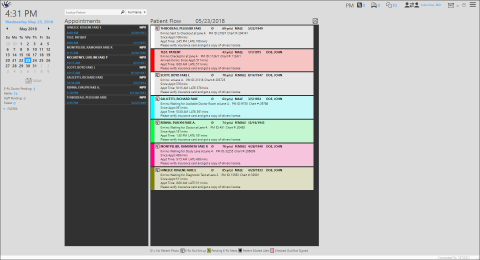 Image: This theme is great for those that want to bring a little more personality to their EMR experience. With this theme, you can choose any background you want, just like your windows desktop!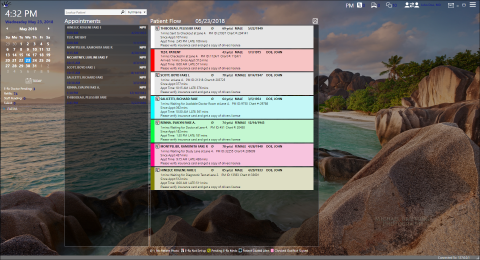 Fast Exam
This new feature allows you to view and document your prioritized findings for all eye exam structures at once. Common conditions for all structures can now be documented in seconds. Uncommon conditions for any structure can be easily searched by simply typing the first few letters.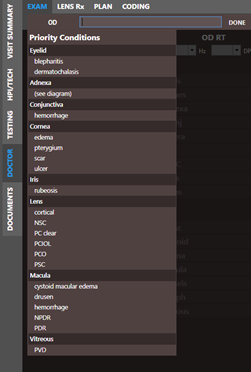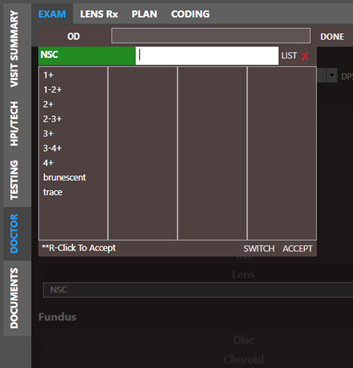 Super Plans
Our new Super Plan feature allows you to consolidate multiple Fast Plans into a single fast plan. This allows you to effectively manage diagnoses with complicated management (like glaucoma) without having to create a fast plan for every possible situation.

Fog Computing Architecture
You've heard of cloud computing and may be wondering if a client/server-based system is still right for you. After all, it is the future right?
WRONG! Current implementations of cloud computing are browser-based. Although browser-based technologies will always have a place in this world, browser-based technologies have severe limitations that make it a misfit for Ophthalmology practices. Poor imaging, laggy performance, lack of usability automations, limited interfacing capabilities, and inability to service areas with poor internet access are just a few of the trade-offs.
The future is in the FOG! The next version of EyeMD EMR will be based on a Fog computing architecture. You may have never heard of the term, but the reality is that you use it everyday! Fog computing leverages cloud technology, but implements it in a way that allows it to be used in any computing environment, including on-premise! The server can be physically located anywhere in the world. It can be in your office, or in a Microsoft Azure based datacenter. You can choose if you want your system in the Cloud or On-premise on your equipment. You decide! You can even move from on-premise to the Cloud or vise versa as your business needs change.
On-premise customers will still benefit as they will no longer be required to use Remote Desktop or Citrix for their satellite offices! You can work from home on a native windows app as if you are in your main office, with NO discernable decrease in performance, even for imaging! This technology is a game changer. If you would like more information on Fog Computing, please visit the Client Newswire in the EyeMD EMR application.
Plus More!
The new version contains hundreds of significant usability enhancements and new features that came as a result of user feedback we have gathered over the years. But this is only the beginning! Our new platform will allow us to rapidly develop new functionality at a pace that will surely aggravate our competitors.
Updated Requirements:
Due to our updated software platform, exam layout, and security requirements, some software and hardware requirements have changed.
!
These changes may require you to update your hardware and/or computer operating systems.
Older operating systems (like Windows XP) will NOT support this new technology.
Minimum windows client operating system – Windows 7 or later
Minimum windows server operating system – Windows Server 2008 R2  or later
Recommended monitor aspect ratio – 16:9 or 16:10  (wide-screen)
Release Schedule:
We will soon be executing a comprehensive roll out to get all of our practices on the next version of EyeMD EMR. Although the update process will be streamlined and will be nothing to be overly concerned about, it will require at least 1 hour of training as a few things have been moved around and new features have been added. Like past major releases of our software, this release will occur over several stages. We expect a large number of users to be on the new version before the AAO annual meeting this year.
Stage 1 – Early Adopter Release: During this stage, clients who have indicated to us that they would like to participate in the Early Adopter Stage will receive the update first. This group should only consist of clients who would like to be among the first to receive these features but are tolerant of bugs that were undetected during our exhaustive beta testing. Clients in this stage of the rollout should expect bugs/oversights and will work directly with our engineers to quickly resolve issues. During this stage, only a limited number of practices will be approved for update release.
Stage 2 – Public Release: During this stage, the system should be stable and field tested by a significant portion of our user base. Although the system will be stable for most users, there may still be potential for bugs in areas/functionality of the program that are not widely used. The update will be released to clients that have indicated to us that they would like to participate in this stage and have satisfied the update prerequisites.
Stage 3 – Stable Release:  During this stage, the system is considered to be stable and ready for deployment in enterprise environments. Clients who run high volume practices, Server Sync, or are intolerant of bugs or the refinement process should consider participating in this stage.
Update Prerequisites
#1. Indicate to us what stage you would like your practice to participate in by sending an e-mail to cs@eyemdemr.com and modifying the subject line to include:
Subject: I would like my Practice (Practice Name) to Participate in Stage 1 – Early Adopter
Subject: I would like my Practice (Practice Name) to Participate in Stage 2 – Public Release
Subject: I would like my Practice (Practice Name) to Participate in Stage 3 – Stable Release
 !If we do not receive a response by June 30th, you will be automatically placed in Stage 3.
#2. All practices will be required to view an online training video that provides an overview of the new features and goes over workflow changes in our system. Once the stage you have chosen has started, we will send you a notification with a link and instructions for accessing the video. The training video will feature an integrated quiz your super user will be required to pass to ensure critical training topics were viewed and retained. You will also be provided with instructions on how to access a demo copy of the new version so that you can obtain hands-on experience with the new version.
#3. Upon successful completion of the video and quiz, your practice will be approved for the update. The update should be done during non-clinic hours as all users must be out of the system during the conversion. Although we do not expect the update to take more than an hour for most practices, the update process can vary depending on the amount of data in your system and your server performance. You will need to allocate enough time to complete the update and deal with any unexpected issues that may arise.
A Word From Our CEO
Thank you all for your patience while we work hard to get this new version rolled out. As you can imagine, it has and will be an adventure but we are ready for the challenge! We could not be any more excited for what is about to take place. We are confident you will love the new version and will say "this was definitely worth the wait". We are also confident that our vision, our people, and our technology will provide a safe-haven for practices looking to move on from their current EMR situation, both here in the US and around the world as we expand our operations internationally. Although our EMR will always be our core product, the wheels are in motion to expand our offerings to include additional products and services within the Ophthalmology space. Stay tuned! The future is bright at EyeMD EMR, and no… we are not for sale.  : )
Abdiel Marin, CEO