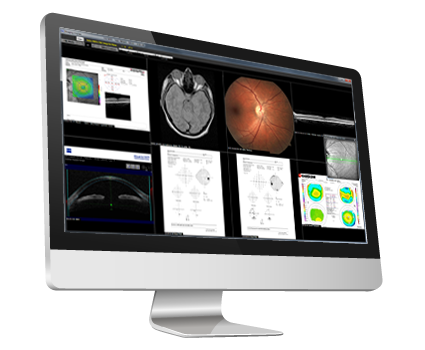 Experience real-time, high-resolution imaging powered by Edge Computing. Access all your images anytime, anywhere without the hassle of VPNs or remote desktop.
Discover the cutting-edge advancements in image management for ophthalmology with EyeMD EMR. Our comprehensive image management system seamlessly integrates DICOM ophthalmology, offering a state-of-the-art PACS for ophthalmology practitioners. With EyeMD EMR, experience unparalleled image library management, ensuring efficient access to critical imaging data.
Our platform is designed to support various imaging modalities crucial in ophthalmology, including B-scan ultrasound, fundus camera, HRT, ICG, ICGA, OCT, and Autofluorescence. The compatibility with renowned equipment such as Zeiss, iCare, iTrace, Heidelberg, Topcon, and Oculus enhances the versatility of our solution, providing ophthalmologists with a unified and streamlined approach to ophthalmic photography display.
EyeMD EMR excels in delivering top-notch PACS for ophthalmology, ensuring that practitioners can effortlessly manage, retrieve, and analyze imaging data. Our OCT scan capabilities offer precise insights, while the integration of the OIS and the utilization of advanced technologies like the OCULUS further distinguish our solution.
Choose EyeMD EMR for unparalleled image management, setting the benchmark in the realm of ophthalmology. Benefit from seamless integration, user-friendly interfaces, and compatibility with a multitude of imaging devices. Elevate your practice with EyeMD EMR, the trusted name in ophthalmic image management.
Say goodbye to slow uploads and downloads. Images are immediately accessible the moment they are captured and are displayed and interacted with in real-time.
Our built-in imaging will streamline your clinical operations with fully electronic workflows. View images, interpret, diagnose, and bill charges in a single screen from any workstation!
Supports All your Devices
We've got you covered with full support for both DICOM and proprietary integrations.
As a fundamental component of our EMR, it's all included.
ZERO per-device integration fees!
Instantly view imaging history in various formats with a single click.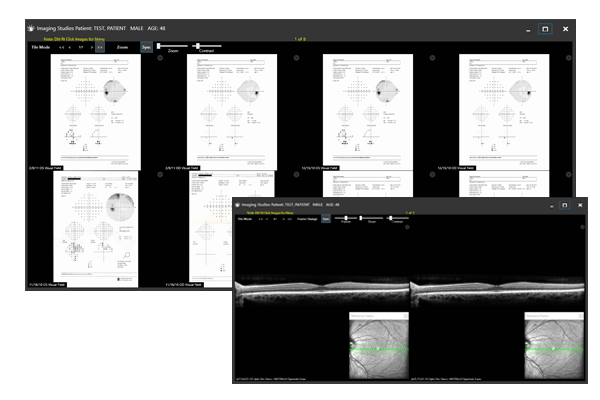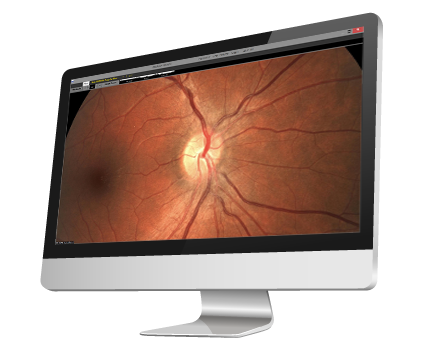 See clearly and work efficiently by effortlessly zooming and panning high-resolution images. 
Browser-based systems often resample images to improve performance. However, this may lead to compression blur and pixelation, potentially distorting clinical details.
Our system displays images at their native resolution, utilizing advanced hardware acceleration. This ensures blazing-fast, stunning visuals that not only boost productivity but also leave a lasting impression on patients.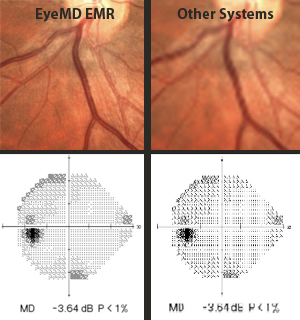 Our Fog-based desktop app leverages Edge Computing for fast rendering of images and documents across all your locations!
We didn't just implement the standards; we helped write them. Our involvement in the development of ophthalmic imaging standards is evident. While others struggle to keep up, we are actively raising the bar.
When we tested our in-house designed DICOM implementation at our first IHE Connectathon, heads turned as it worked perfectly. Since then, we've contributed our expertise to the advancement of IHE Eyecare—an interoperability effort led by the American Academy of Ophthalmology.
While Ophthalmic DICOM IHE specifications have been available since 2012, previously developed IHE specifications made it impractical for most small clinics. Our contributions led to the development of the Core Eye Care Workflow (C-EYECARE) profile in 2014, co-authored by our CEO. This effort then prompted the development of the Unified Eye Care Workflow (U-EYECARE) in 2016, to which our CEO also contributed.
Thanks to our contributions and the work of the IHE Eye Care Team, ophthalmologists now benefit from practical DICOM implementations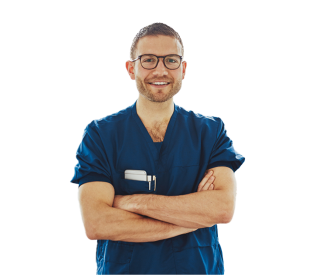 You are excellent at what you do. So are we. Our best-in-class solution will amplifiy your efforts.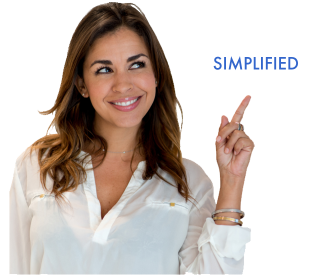 Simple doesn't have to mean basic. Automate your practice with streamlined workflows that increase revenue and decrease costs.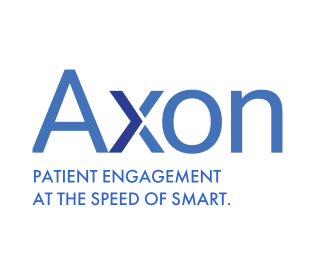 Introducing Axon: a 3rd generation engagement system reimagined for eye care. Experience next-level digital intake and patient reminders.